VISUALS listens to the audio being played on your computer and visualises it instantaneously using 36 different abstract graphic elements. The graphics move with the music and change based on the energy of the music and ride intensity. The colours change to match the training zone, and the vibrant visuals adapt to changes in volume, frequency, or even kick drums, hi-hats and more.
Important
You can only run VISUALS on the Windows version of the Intelligent Cycling Desktop App.
In this help article, we cover:
Important settings when using VISUALS
Understanding the visuals
1) Important settings when using VISUALS
The visuals react to the sound output on the PC. That means the visuals will be less reactive to the music if the volume is low. Make sure to set your PC to the highest possible volume before using VISUALS:
Right-click the sound icon on your taskbar.
Choose "open sound".
Set all outputs to "high", as shown below (Spotify output is only important if music runs from Spotify).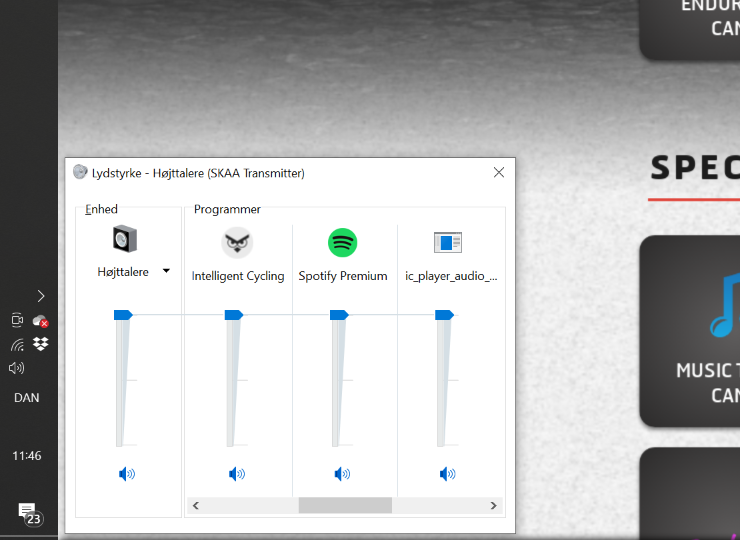 2) Understanding the visuals
The visuals react to your music, including:
Intensity: The intensity of the music determines how the graphics react. That's why each of the 36 visuals always looks a bit different, depending on the music it's reacting to.
Training zones: Some visuals look more dynamic than others. To make sure the visuals always fit the training zone, we've assigned specific visuals to specific training zones. That means not all 36 graphics will be visible in all zones.
Colours: The colours of the visuals change to match the intensity of the current interval. Most visuals also have a complementary colour to add more effect!
Time: Each visual runs for 60 seconds with 25% randomness. Visuals always change when a new interval begins.