How to create a workout in the mobile Session Designer
Follow
You can create your own workouts in our mobile app and enjoy your own music while you work out. The mobile Session Designer is a light version of the desktop app and has limited functions. It will allow you to add "intensity", "RPM" and a "cue card" to each song on your playlist.
Here are the steps to creating your own workout on your phone:
Open the designer
Choose music (Spotify or MP3 files)
Add intensity, RPM and cue cards
Save workout
Edit previous workouts
1. Open the designer
When you open the mobile app "create workout" is listed in the main menu.
2. Choose music (Spotify or MP3 files)
You have the option to choose between music from "Spotify" or "Dropbox". Dropbox is the service we use to connect your MP3 files to your workouts. This ensures your music will be available for you on all devices.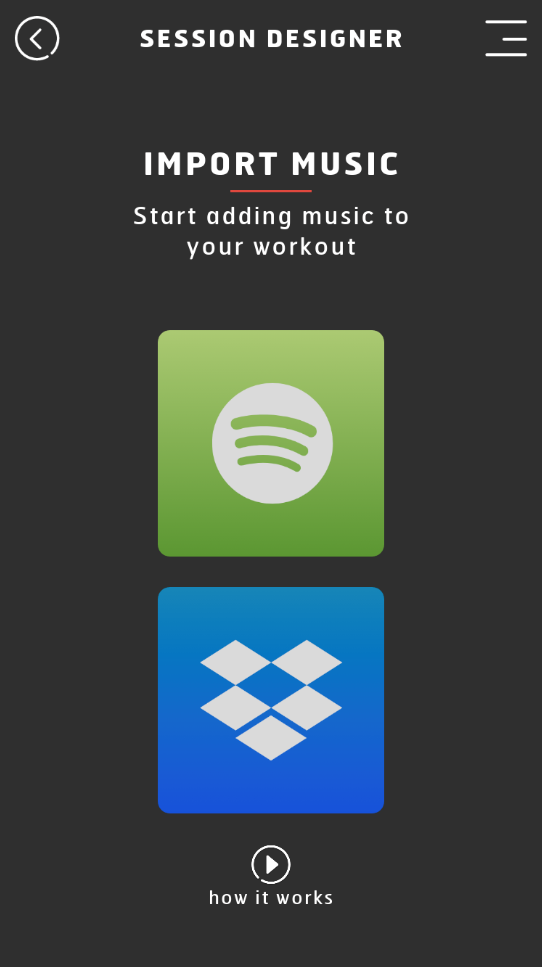 Spotify
When you click Spotify we will ask you to connect your Spotify profile (if you haven't already) and then load your playlists. Spotify only allows us to load public playlists and you cannot add local files to your Spotify playlists (meaning your Spotify playlist cannot contain any music stored locally on your device). You can search for a specific playlist or just scroll to find the playlist you want to import. Each playlist will show the number of songs in that playlist. Click the chosen playlist to continue
Note!
You need to set crossfade to 10 seconds and deactivate "gapless playback" and "automix" in Spotify. Learn how by clicking this link.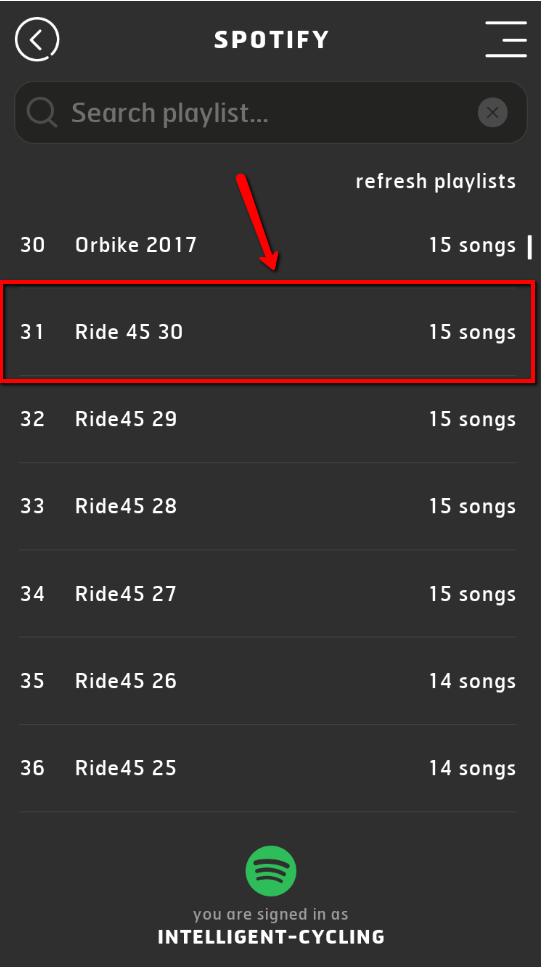 Dropbox (MP3)
If you choose Dropbox we will ask you to connect to your Dropbox account (if you haven't already). If you do not have a Dropbox account you can create one for free. Connecting to Dropbox automatically creates a new folder named "APPS" in your Dropbox. Here you will find the folder "Intelligent Cycling". This is the only folder we have access to. Move your MP3 files to this folder. This might be easier to set up from your PC/Mac. Learn how by clicking this link.
When you are connected to Dropbox we will load all songs placed in your "Intelligent Cycling" folder and list them in the app. You can add songs to your playlist by tapping them. The number of songs you have chosen will be displayed in the top right corner. When you have added all the songs you want to use for your workout tap "show playlist".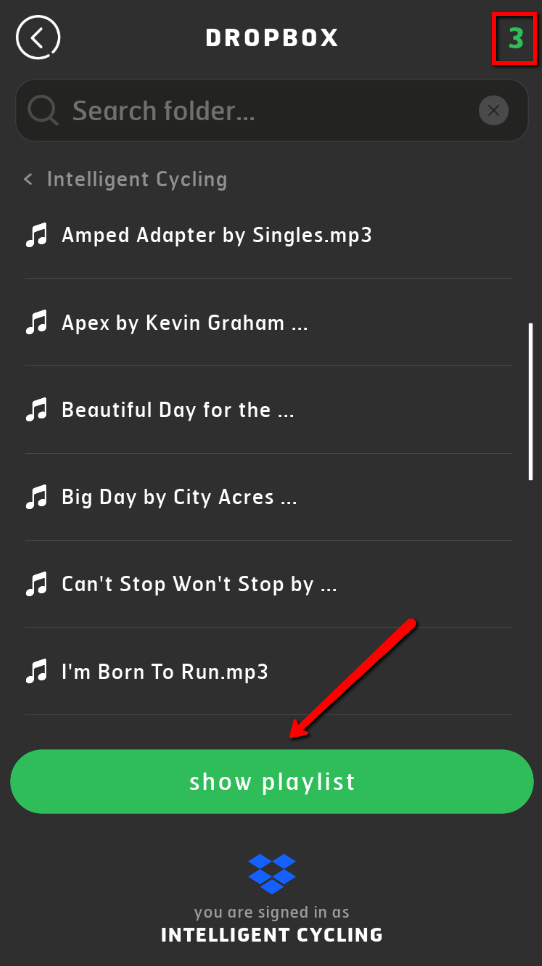 When you click "show playlist" we list only the songs you have chosen for your playlist. You can drag and drop the songs on the list to change the order. The number of songs on your playlist will still be visible in the top right corner. To start building your workout click "import music". You can also clear your song selection and start a new playlist from scratch (this only removes the songs from your playlist, not from your Dropbox account).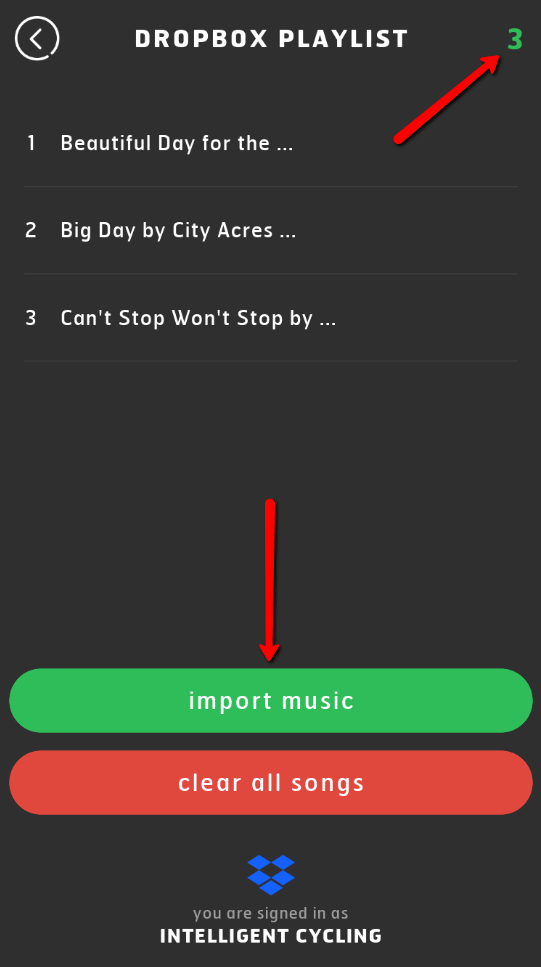 3. Add "intensity", "RPM" and "cue cards"
Now that you have chosen and imported your songs (via Spotify or Dropbox) you will see the workout profile at the top of your screen followed by your new playlist. You can now start creating your workout. No matter how you chose to import your music adding intensity, RPM, and cue cards works just the same. Click the first song on the list to start editing.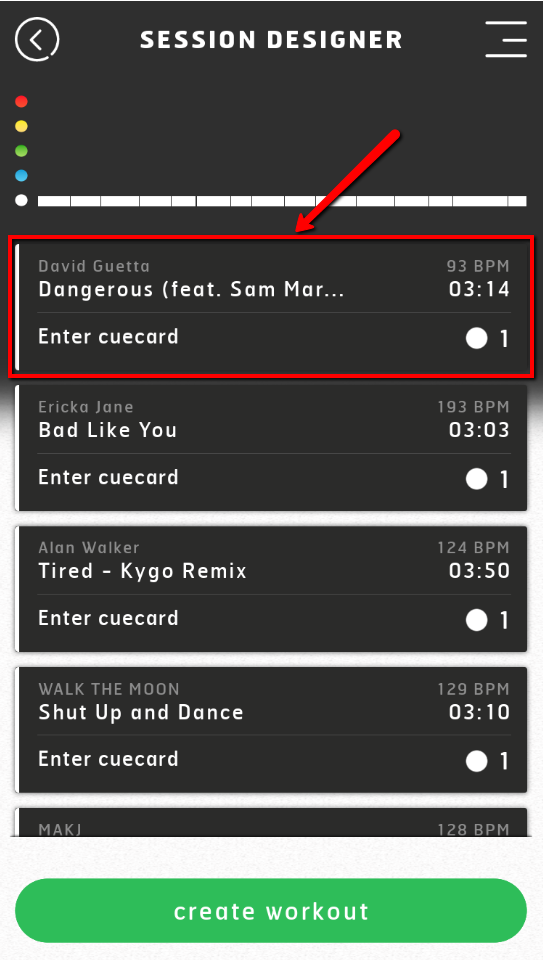 You can now adjust:
Zone and Intensity: There are 7 zones defined by colors and intensity from either %FTP, %HRmax, or RPE (colors only). Learn more about how to change training parameters and colors.
RPM: The RPM levels are added in a range of 10. Scroll the list to see the options.
Below the intensity, you can add a cue card. When you are done, click "save".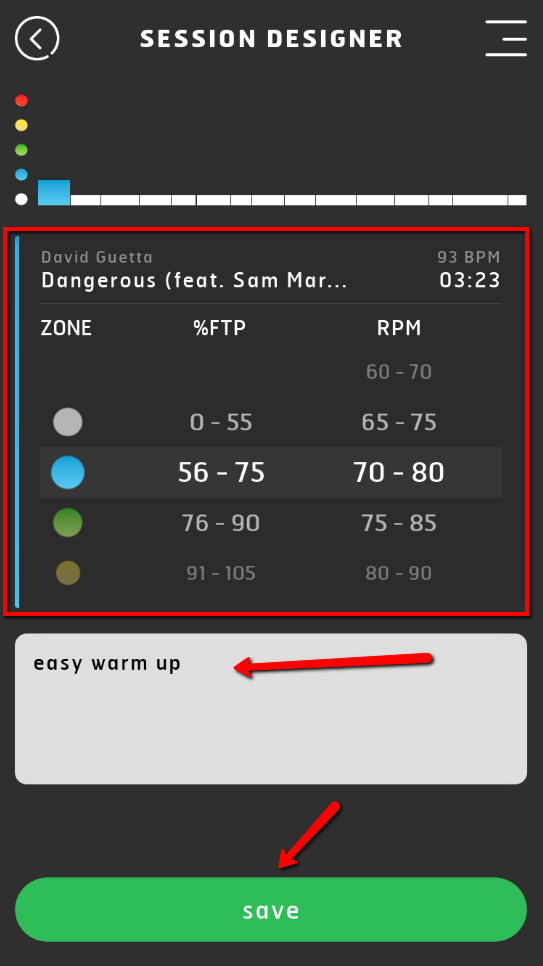 When you have added intensity and cue cards to all songs on the playlist click "create workout".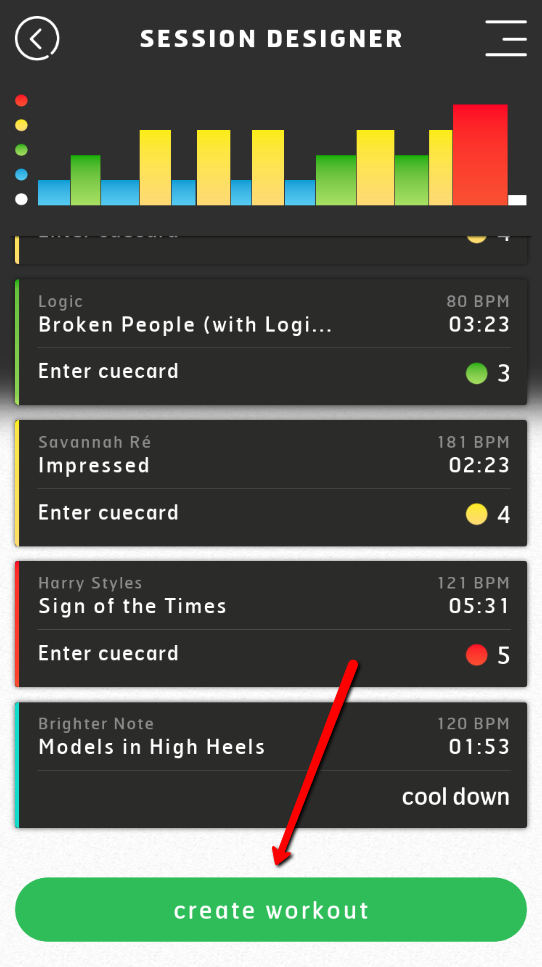 Name your workout and hit "create workout" to complete the design process.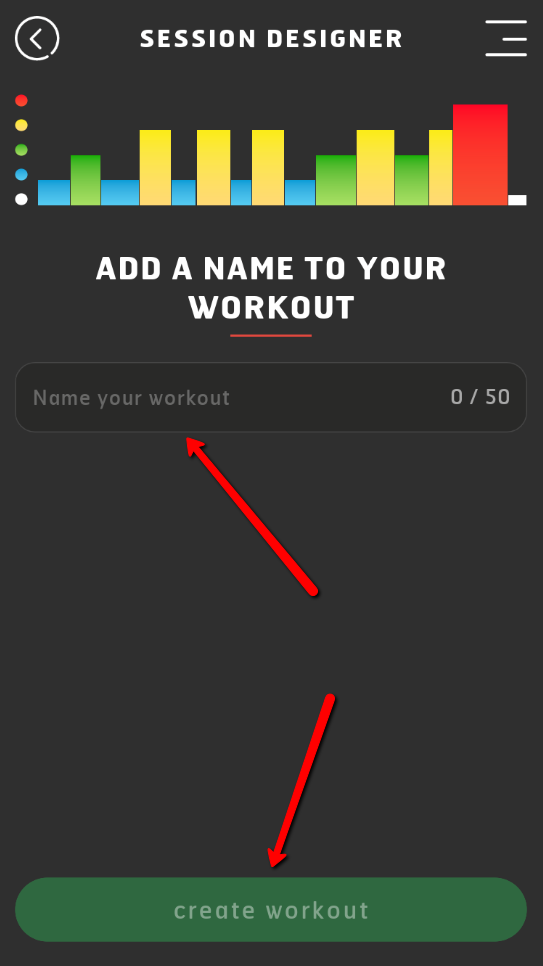 You will now see your new workout profile with all interval details. If you hit play you will start the workout. You can also swipe to the left to see the workout details.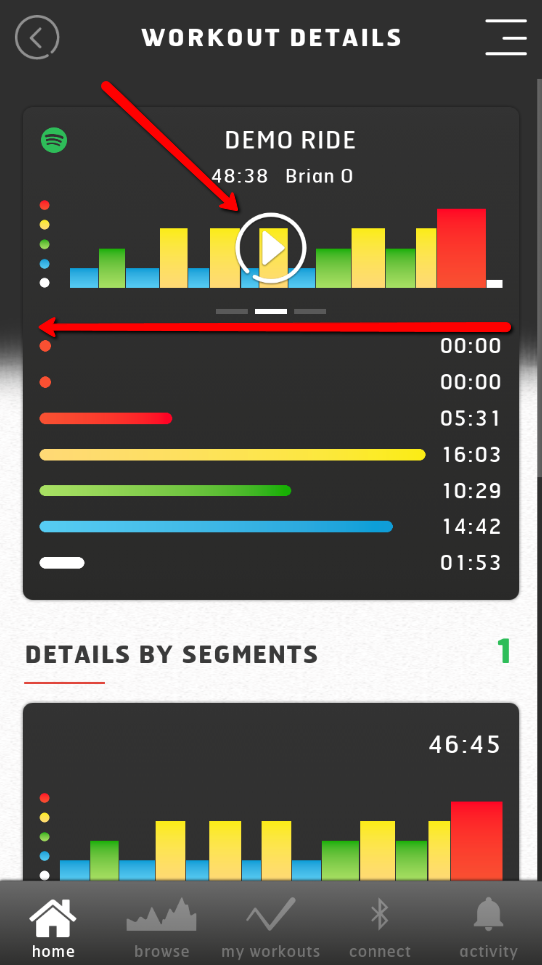 If you want to edit your workout to change a song, intensity, or the RPM, simply hit "edit workout" to open your workout in the Session Designer.
Note
You can open a workout created in the mobile designer in the desktop version of the Session Designer, but if you edit the workout in the desktop app you will no longer be able to edit it in the mobile app designer afterward.